Best Dueling Pianos
Dueling pianos shows make for a unique, interactive experience that is far from a typical night out. Two grand pianos, two outgoing piano players, and an active, fun audience make the perfect party atmosphere for any event.
As dueling pianos in Iowa and the Midwest grow in popularity, there is no longer a need to travel for a fun night of keyboard duels. USA Entertainment wants to help make your next event a hit, and help you book an awesome dueling pianos act, sure to please any audience. Weddings, anniversary parties or corporate events in Iowa and throughout the Midwest are perfect for a dueling pianos act.
What is dueling pianos like?
A dueling piano consists of two grand pianos, two charismatic, hilarious entertainers behind the keys, and an audience that will laugh and dance into the night. Throughout the night the piano players play audience requested songs. The pianists sing and battle back and forth with comedic commentary and hilarious banter. For special occasions such as weddings, anniversaries, or birthday parties members of the audience could request a special songs or that the patron be brought on stage.
Audience participation is a huge factor in the success of a dueling piano acts. Requests, sing-a-longs, and dancing make dueling piano acts fun and special for all event guests.
Will they know my favorite song?
If your favorite song is a top classic rock, country, pop, or rap song, chances are your pianist will know it well!
Most dueling piano acts encompass a wide variety of music, including songs that most everyone knows and loves. Classic rock and popular songs from the past are crowd favorites at dueling piano events.
Popular songs at dueling pianos shows:
Don't Stop Believin'
Friends in Low Places
Piano Man
Tiny Dancer
Ring of Fire
Great Balls of Fire
Bennie and the Jets
Sweet Caroline
Baby Got Back
Paradise by the Dashboard Light
Hotel California
Brown Eyed Girl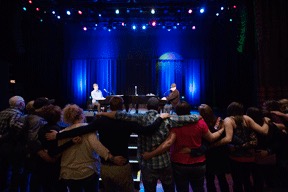 Are dueling pianos the right fit for my event?
How many times have you been to a wedding or company event where the crowd enjoyed cocktails, ate dinner, and headed home once the DJ started playing? Far too often guests are turned off by an over anxious DJ and empty dance floor. With dueling pianos at your event, the crowd is sure to stick around to check out what the pianists have in store. Song requests make audience interaction easy, and most pianists are capable of really getting the crowd going! But don't just believe us, USA Entertainment works with plenty of extremely happy groups after booking dueling pianos in Iowa.
Where do you book and play dueling pianos?
USA Entertainment is an Iowa-based company, and unlike many other agencies, we have done business in Iowa for 25+ years. Will are dedicated to making your Iowa wedding, corporate event, or party great! We book dueling piano shows in large Iowa cities and their surrounding communities: Des Moines, Cedar Rapids, Council Bluffs, Cedar Falls, Waterloo, Iowa City, Dubuque, Quad Cities, and more. We also book shows in other Midwestern states including Nebraska and South Dakota.
Customer testimony:
"It was amazing!!! I wanted I let you know that Michael and Dan put on one of the best dueling piano shows I have ever been a part of! I have seen many dueling pianos in the past, and I was even at a Howl at the Moon dueling piano bar earlier this week, and the way these two guys interacted with our audience couldn't compare! From the start, the first song they played, they had us hooked. I was stopped throughout the night by our guests and was told that the dueling piano act was a huge hit. I absolutely would recommend these two to anyone for an event. Phenomenal job!!! Thank you!" - Kyla Collision
"We hired Midwest Dueling Pianos for our daughter's wedding on July 23, 2016. The entire experience was outstanding!!! Jeff Johnson and Tommy Sklutt were both very helpful and worked to fulfill all of our special requests for the day. Our piano players Mike & Dan were awesome!!! The dance floor was packed the entire night. We started the evening with dinner music, while our guests were eating. Then the players announced the wedding party and helped with the flow of the evening with toasts and first dances. My husband had a special father of the bride speech with musical clips, and the company helped with formatting the clips for the event. The speech came off perfectly. They were very accommodating of music requests and were very interactive with all of the guests. I would highly recommend using Midwest Dueling Pianos for any special event!!!" - Dave & Angie Ard
Not sure if your Iowa crowd is ready for the punch a dueling piano act will bring? USA Entertainment can work with you to find the right entertainment for your event. From live tribute bands, karaoke, and comedy, book with USA Entertainment and rest assured you'll have a fun evening to look forward to.