Posted on May 28, 2015 in Uncategorized |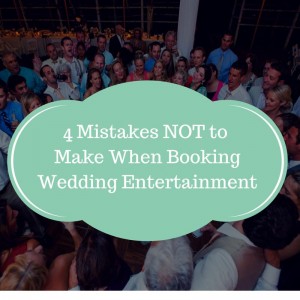 Entertainment at your wedding or event is one of the most important aspects. USA Entertainment wants your day to be fun, memorable and stress-free and suggests avoiding the following mistakes when booking wedding entertainment.
Mistake #1. Booking Online- In 2015, booking online may seem like the easiest route to finding great entertainment. However using companies such as Gig Master and Gig Salad to book talent for your very important evening can be a major risk. Booking entertainment online risks the quality and reassurance of a great entertainer at your event. Because these companies have no have no pre-screening process in place, any entertainer can sign up to be listed on these online sites, regardless of experience and talent.   As a result there is is no filter in place to monitor the quality or experience of bands on Gig Master or Gig Salad.
USA Entertainment Agency exists to provide the guests at your event the best entertainment possible.  From dueling pianos, cover and tribute bands, and comedy, USA Entertainment Agency pre-screens talent to ensure your event has the best entertainment available. There is no need to book online, USA Entertainment has a wide variety of entertainers that will have you and your guests laughing, singing, and dancing all evening long.
Mistake #2. Booking Unqualified Talent- Just as we warn against hiring talent online, avoid hiring entertainment that is not qualified and experienced enough to put on a great show. Avoid booking unqualified talent by hiring entertainment that has been pre-screened by an agency, such as USA Entertainment. Booking screened talent allows peace of mind for a great, entertaining evening. USA Entertainment places pride in the quality of entertainment we provide. Our clients gush about compliments from guests on the quality of entertainment we provide!
Mistake #3. Hiring a DJ to Only Play Music – Entertainment at weddings and parties should be fun, exciting and engaging for your audience. Too often couples hire a DJ with the idea that their sole role is to play music off a list of music.  Great entertainers know how to work a crowd, and make sure that guests are having a great time. Dueling Piano acts booked through USA Entertainment are fun, entertaining, and interactive. A dueling piano show keeps guests entertained and the pianists make a fun, inviting atmosphere. More than just playing music off a list, dueling piano shows are interactive and encourage all audience members to be involved. This is an extremely important aspect to keep in mind as you hire entertainment for your wedding.
Mistake #4. Disregarding Lights, Sound and Stage Set-Up- A night could turn quickly if a DJ or band shows up without proper sound and lighting. It's crucial that entertainment hired is well equipped to create the right sound and lighting at your venue. Because it is assumed that a band or DJ is prepared in this sense, it is an easy detail to overlook. USA Entertainment provides stage, lighting, and sound consulting for all of our clients. We want to make sure your venue is set up properly and that things run smoothly all evening. 
USA Entertainment Agency wants to help make your wedding or event fun and memorable for you and your guests. Contact us today to learn about the many entertainment options available.
USA Entertainment Agency's wide variety of wedding entertainment options includes:
Bands
Tribute bands
Dueling pianos
Live band karaoke
Comedians
Consider contacting USA Entertainment when you are ready to book wedding entertainment in Iowa. Complete a contact form or contact Jeff at USA Entertainment Agency at info@usaentertainmentagency.com or by phone at (319) 846-9336.